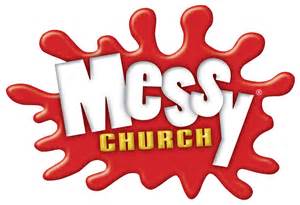 Messy Church is a time for people of all ages to explore and express the Christian faith in a fun and creative way. It runs from 4 pm until 6 pm on a Sunday about four times per year at St Andrew's Church Hall, Deans
Due to the Coronavirus pandemic, we are not currently able to make plans to hold the next Messy Church event. We hope it won't be too long. In the meantime, we are hosting weekly online services, which are supported with some online activities for children and young people. You may find these of value, either when you join the online service or as a separate activity. The latest online materials can be found here.
Each Messy Church is different, but here is an idea of what to expect:
4 pm: Arrive – Come to St Andrew's and relax and chat over refreshments. Families are welcome to enjoy the toys together.
4:15 pm: Crafts – Several different crafts, games, challenges and activities are available for everyone to explore a biblical theme.
5 pm: Celebrate – We come together as a group for a celebration involving a story, song, activities and prayers.
5.15 pm: Eat – We share a meal together.
Everyone is most welcome at Messy Church, though we ask that children are accompanied by an adult.