Do you have anything of interest you would like to have included in the next Newsletter?
Any articles should be submitted to the Editor Barry McKay by the 15th of August.
Submission by email is preferred - if you do not have Barry's address, please get in touch via our Contact Form and we'll get back to you. Alternately, physical copies can be handed in at the door at any Sunday service - please mark these for Barry's attention so they can be passed on.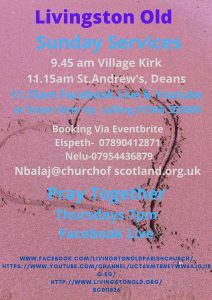 This Week at Livingston Old Parish
We are now able to reopen our church buildings on a limited basis, and to restart Sunday worship in both locations. However, numbers are tightly limited and so advance booking is essential. Please see the links below for booking details.
Monday
Toddler Group: 9.30am – 11am, at St. Andrew's, Deans
Thursday
Pray Together: 7pm, on Facebook Live
Sunday
Sunday Worship: 9.45am at the Village Kirk, Livingston Village.
Sunday Worship: 11.15am at St. Andrew's, Deans, and also on Facebook Live & Youtube
In these difficult times we don't want anyone to feel isolated or alone, especially those who are vulnerable.  Please contact the minister on 07954 436879 if required or leave  a message here.