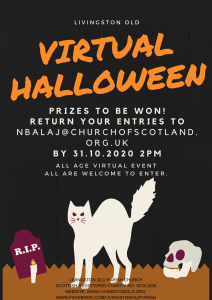 Ordinarily, we like to have some harmless fun together at Halloween. Circumstances this year mean that we can't get together in the Church Hall, but we can enjoy a Virtual Halloween Party together and still stay safe. Here's the plan …
Our Virtual Party Event is on Saturday 31st October. In the comfort and safety of your own home, work through the four activities on the downloadable sheet here. There are lots of old favourites: dookin for apples, fancy dress and decorating a pumpkin. You can also make a mummy, something you might not have done before. Follow the instructions on the sheet, which will involve taking a photo of the activity and email this to our Minister, Nelu Balaj (the email address is on the activities sheet). You can hold your party at whatever time is convenient for you but you need to submit your photos before 2 pm to be eligible for a prize. The judge will decide the winners and drop off a small prize to them.
The activities are not just for children and young people, anyone can join in with them and we hope you will.