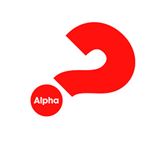 The Alpha Course seeks to introduce the basics of the Christian faith; it is "an opportunity to explore the meaning of life".
Alpha courses are being run in churches, homes, workplaces, prisons, universities and a wide variety of other locations. The course is being run around the world by all major Christian denominations.
Why Run Alpha?
Wherever Jesus went there was fascination. People were compelled, comforted, healed, confused, angered, enamoured and outraged but they were never bored. Jesus is infinitely fascinating. Alpha creates a context in which people are invited to talk about Jesus.
It starts with a welcome: normally food or some kind of tasty nourishment, great conversation and a light-hearted atmosphere. Then there's a presentation about an aspect of the Christian faith. Finally there are small groups: an essential part of what makes Alpha work, forming a community of encouragement and exploration around the guests.
When you attend Alpha, you are joining thousands of people around the world in over 65,000 churches that, in the last 30 years, have seen more than 20 million people come on Alpha.
More than ten courses have been run over the past 14 years. All of them have helped people to grow in their faith and take leadership roles within the church as well as finding ways to share what they have learned. Information on the next course will be announced in August, 2014.